STIHL GTA 26 Replacement Blade Pruner Mini Chainsaw
Description
Get battery-powered precision in the palm of your hand with the GTA 26 battery garden pruner. Lightweight, powerful and easy to use, the GTA 26 delivers cutting performance backed by the resilience of Battery Power. Made by STIHL.
GTA 26 Battery Garden Pruner
Nature is unpredictable, which is why you need a tool built to take on the job at hand yet versatile enough to handle the unexpected. With its ergonomic design and incredible precision, the GTA 26 is a battery-powered garden pruner unlike anything else on the U.S. market.
Versatility and Precision
From promoting tree and shrub health to manicuring your landscape with precision, this pruner is ideal for a range of tasks — from gardening to a variety of small projects. Whether you're a hobbyist or a professional, the GTA 26 battery-powered garden pruner is a vital addition to your lawn care lineup.
Technical Specifications
Weight without battery*: 2.7 lbs.
Weight with AS 2 battery*: 3.1 lbs.
Chain speed: 26.3 ft./sec.
Run time: Up to 25 min.
Guide bar length: 4 in.
Weight with cutting attachment
4-inch Guide Bar
The 4-inch guide bar offers toolless removability and is designed to allow users the ability for precision cutting and pruning, and its size makes it possible to get to those hard-to-reach spots.
Reliable Run Time
A completely new class of tool in the STIHL product lineup, the GTA 26 battery-powered garden pruner also introduces the AS 2 battery. With its reliable performance and long run times, the AS 2 battery allows users to get a lot done on a single charge.
¼" PM3 Saw Chain
The GTA 26 battery-powered garden pruner features the easily removable ¼" PM3 saw chain. This saw chain gives users the ability to make smooth and precise cuts. Its design also gives users the benefit of low vibration.
Everything You Need
An LED light display provides charge level and status of the tool. With a battery, charger, transport bag, and multi-oil for saw chain lubrication, the GTA 26 battery garden pruner comes with everything you need to take on landscaping tasks like never before.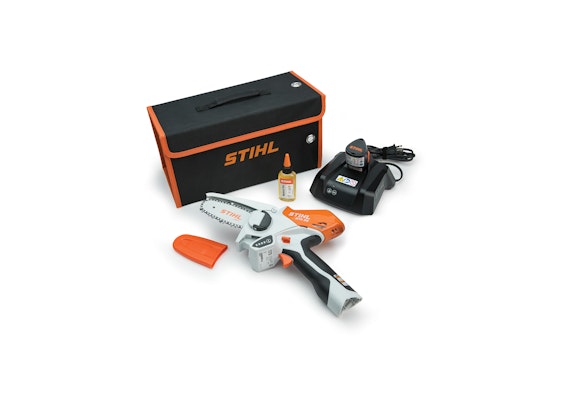 ---
We Also Recommend