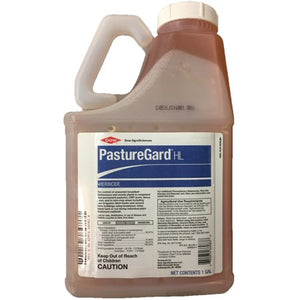 Dow AgroSciences PastureGard® HL
Pasture weed and brush control with a single product
PastureGard® HL herbicide gives ranchers one flexible product that takes out broadleaf weeds and brush. Whether it's protecting, improving or restoring valuable grazing acres, weed and brush control with PastureGard HL clears the way for more forage, better land utilization and increased property values — all while helping ranchers raise more pounds of beef at the lowest cost possible.
The simple solution for broadleaf weeds
 

and

 

brush

PastureGard® HL simplifies pasture improvement — two active ingredients, one product, broadleaf and woody plant control — so ranchers can move on to more important aspects of their operation.
Controls most important pasture weed and brush species
Broadleaf weeds and woody plants often grow in mixed-species complexes. PastureGard HL controls a wide variety of broadleaf weeds and woody plants, including hard-to-control brush like blackberry, rose and privet. PastureGard HL provides excellent control of other woody species, including wax myrtle, sweet gum, persimmon, Osage orange (hedge, bois d'arc), and is the industry standard for sericea lespedeza and dogfennel control. Turn to PastureGard HL for control of tolerant or resistant biotypes, including kochia and mustards.
Flexibility that fits across the ranch
PastureGard HL supports forage production goals across various use sites. Use PastureGard HL to stop encroaching weeds and brush and protect valuable fence lines. Flexible application options let ranchers conveniently treat individual plants or take on large-scale renovation-type programs. PastureGard HL is an excellent, nonresidual option on hayfields without hay marketing restrictions. Ranchers even can use it to control weeds under the canopy of desirable trees. Tank-mix flexibility with GrazonNext® HL herbicide lets them broaden the control spectrum, or when residual weed control is desired.
Conservation Reserve Program Acres
Wildlife Openings
---
We Also Recommend