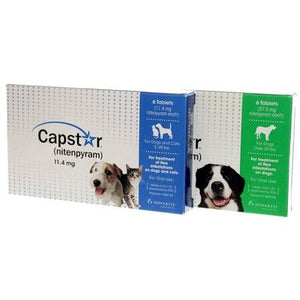 Capstar Flea Tablets for Dogs and Cats
Capstar Flea Tablets work quickly to stop the discomfort caused by flea bites.  One tablet starts working in just 30 minutes and kills 90% of the adult fleas on your dog or cat in just hours.
Kills adult fleas on dogs and cats
Works quickly – within 30 minutes
Not a preventative treatment
Small, easy to dose tablets
If your dog or cat has fleas, you need a fast-acting, effective treatment to help your pet and stop the possible spread of the fleas to other pets, people or your home. Talk to your pet's veterinarian about Capstar Flea Tablets.  These small tablets contain nitenpyram, a medication that starts working in as little as 30 minutes and skills more than 90% of adult fleas on dogs in just four hours and on cats in six hours. This medication is safe for dogs, cats, puppies and kittens older than four weeks of age and more than 2.2 pounds in body weight. Capstar is a "quick kill" solution for flea outbreaks. Because Capstar Flea Tablets do not kill flea eggs or work as a preventative against fleas, you should talk with your pet's veterinarian about using this medication in conjunction with other medications as part of a complete flea control program. Have a question about Capstar Flea Tablets? Just click on the "Ask a Question" tab above.
What you should know about Capstar Flea Tablets:
Talk to your pet's veterinarian before using this product.
Follow dosing directions exactly - don't give your pet more medication than directed and don't skip doses.
Read the label carefully for information about storage, possible side effects, and drug interactions.
---
We Also Recommend